¿te gusta Rodeway Inn Page?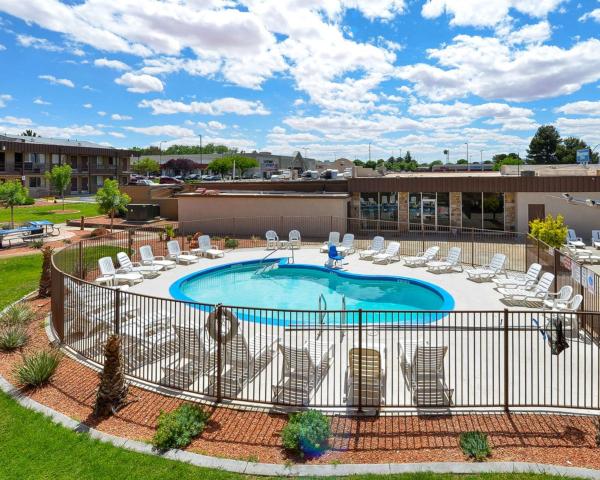 encuentra las mejores tarifas de Rodeway Inn Page
donde:

Hotel en Page


Horarios de apertura:

Lu-Do: 00:00-00:00

Dirección:

Teléfono:

(928) 645-2406

Clasificación:

cercano:

Delightful hotel Recently, my husband and I stayed at the Rode way Inn page AZ for 1 nights for a wedding. This place is fantastic. The service and friendliness of the staff is hard to beat. It is a spacious and beautiful with all of the great amenities, which is something that we loved about this place. The Rode way Inn page AZ is conveniently located between the Antelope Canyon and LAKE POWELL, which made it very easy to get around quickly. I was so impressed with this hotel and I really cannot wait to go back!!!

Awesome and Fantastic!!!!!! This place was awesome. We book this hotel through Internet and were very much satisfied with the amenities provided by this hotel. We stayed here for one night. The front desk staff was very helpful and courteous. They provided all the information which we want and help us to save money. The room was clean spacious and comfortable. The bed and bathroom was spotless. Hotel is located near to Antelope Canyon. We also enjoyed the Breakfast which was delicious and tasty. The coffee of this hotel is the right way to start the day. We will come back to stay here again.

Very Comfortable, Amazing Service!!!!!!!! My Wife and I decided at the last minute to spend Jul-25 in Page, AZ, I checked on expedia.com for hotels and found this little gem of a hotel. . We arrived around 3pm on a Monday and surprisingly our room was already prepared for us. The staff was very friendly while checking us in, showing us the room and the amenities etc. We felt genuinely welcome and well taken care of. Our room was VERY clean and so well decorated. The room was great, with fridge, microwave, coffee machine, hair dryer, free wi-fi. The patio just outside the room was convenient and comfortable - able to relax. The bedding is as comfortable as any I've ever slept in and it was nice to have a Satellite TV in room. I can't wait for our next visit. I recommend the hotel to everyone.